SOLUTIONS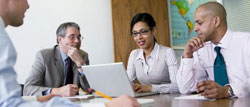 EB Consulting Customers realize the benfits of SAP by utilizing our in-depth experience in a variety of SAP Solutions as well as our industry knowledge. We also provide our customers with a wide variety of Supply Change Management Business Re-Engineering solutions.
Portfolio
EB Consulting offer solutions in the following SAP packages:
PLM, CRM, SCM, MySAP, BW and R/3.
Implementation & Upgrades:
Utilizing our SAP Approach providing with materials such as; seamless implementations, efficient upgrades, on-time/on-budget projects, and rapid component upgrades.

Strategic IT Development:
Providing Strategic Development to integrate both Business and IT solutions.

Supplemental SAP Resources:
Enhancing your SAP team with our Platinum-level, business-process savvy SAP Consultants at value pricing.

Project Assessment:
Providing strategy development and objective assessments for new SAP module implementations, upgrade readiness, system conversions, and acquisitions.

System Integration:
Assisting SAP Customers with flawless system integration, reliable data migration, project rescues, and quick-win functionality enhancements to increase your ROI.

Remote Support:
Offering an alternative to risky offshore services with our world class remote ABAP development, Basis & Security services, functional configuration, and on-call Subject Matter Experts.
Business Process Re-engineering:
Utilizing our Business Approach and industry knowledge, we assist our Customers with process Re-Engineers Initiatives.
EB Consulting
27 Glendenning Street, Norwalk, CT 06851
Phone: (203) 984-1666 / Fax: (203) 663-8134
clashley@ebconsultingllc.com